If you love Gmail you probably know some of its keyboard shortcuts, but if you think that the ones you know are not quite enough, you could try this little shortcut trick: Shift + ? And you will be surprise to know what happen next… Another over lay page in top of Gmail will appear revealing every keyboard shortcut for Gmail, pretty handy!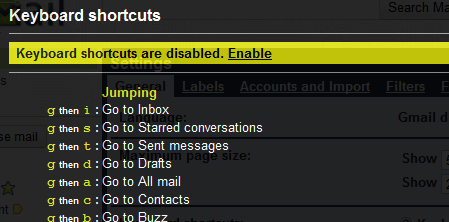 So that is pretty much all about it, if you want you can click Close when you don't want them anymore or click Open in a new window, this will open another tab to the Gmail help site where you can find more details about every keyboard shortcut for Gmail and if you want you can print them out.
Remember, if when you are trying Shift + ? doesn't work, you may have Keyboard shortcuts feature disable in your Gmail settings. To fix this go to your Gmail settings page, while in the General tab, select Keyboard shortcuts on, then scroll down the page and click Save changes.